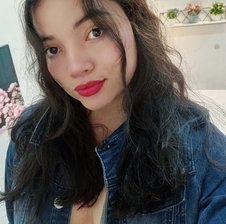 Megan-zc
Seguir
Notificarme cuando esté en línea
Esta modelo está
En línea
Fuera de línea
20, Acuario, Colombia
Última sesión:
12/06/23 15:36:14
Detalles importantes de
Megan-zc
| | |
| --- | --- |
| Género | Mujer |
| Me interesa | Hombres |
| Edad | 20 |
| Altura | 160 cm - 170 cm |
| Peso | 55 - 60 kg |
| Cabello | Morena |
| Ojos | Marrón |
| Raza | Latina/Hispana |
| Idiomas | Español, Inglés |
| Vello púbico | Afeitado |
| Busto | Medianos |
| Trasero | Mediano |
Hello sweetie. I'm Megan and I want to tell you a little bit about myself, so you can get to know me better. I enjoy good conversations and meeting new people, I love spending time with my dog Daco and going for walks. I'm a very positive, friendly and ou**oing girl, so don't be afraid to talk to me in my chat, I love a great sense of humor and intelligence.

I can be very sweet and charming; however, I am a strong woman, with character and a lot of self-confidence. I enjoy my body, I explore it and enjoy my sexuality. In sex I like to experience new things, I love to make fantasies come true and that's why I think my job is an amazing practice for me, because I fulfill your cravings, we will talk and have a good time.

FEEL FREE TO JOIN ME, LET'S GET TO KNOW EACH OTHER AND DISCOVER WHAT DEFINES US.
1. Please don't argue, I'm trying to make this a happy and warm place, not a battlefield (the only war that is acceptable is the token war).

2. Please treat me, my mod and my regular members with respect. Any rude comments will be muted or banned.

3. If you want to ask me a question and I'm a bit busy on the show, you can ask my mods or send a note of advice, it's easier to see.

4. Please use the advice note for naughty words or by pm, I don't want to share it with the whole room.

5. I gladly accept privates as long as I don't have a show going on at the time.

6. No explicit gifs (only allowed by pm), funny gifs are welcome anytime, I usually laugh a lot when I see a good one.

7. Don't demand if you don't tip.
Horas de trabajo de Megan-zc
Lista de deseos de Megan-zc